Decorative laser cut products are becoming increasingly popular in the market today due to their elegance and versatility. These intricate designs are created using laser cutting technology, which allows for the precise and accurate cutting of various materials, such as wood, metal, acrylic, and paper.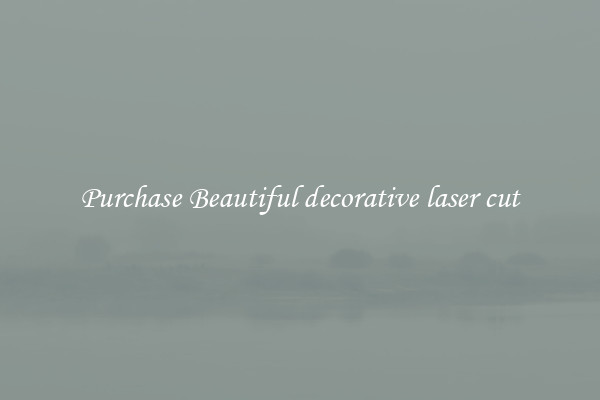 One of the main reasons why people purchase beautiful decorative laser cut products is the aesthetic appeal they bring to any space. Whether it is a living room, bedroom, or office, these decorative pieces can instantly enhance the overall ambiance and make the area more visually appealing. The intricate patterns and designs created through laser cutting are truly mesmerizing and can serve as the focal point of any room.
Furthermore, decorative laser cut products are highly customizable, allowing individuals to choose designs that suit their taste and preferences. From floral patterns to geometric shapes, there is a wide range of options available. Some companies even offer personalized laser cut products, allowing customers to incorporate their own designs or initials into the piece. This level of customization ensures that the decorative item perfectly complements the existing décor and reflects the personality of the owner.
In addition to their visual appeal, decorative laser cut products are also known for their functionality. These items can serve a practical purpose while still looking beautiful. For example, laser cut lampshades can create stunning light patterns when illuminated, adding a unique touch to the lighting in a room. Laser cut room dividers can serve as an artistic way to create separate living areas in open space layouts. The possibilities are endless when it comes to incorporating laser cut decorative items into your home or workspace.
When purchasing decorative laser cut products, it is essential to consider the quality of the materials used and the construction of the product. Look for reputable companies that specialize in laser cutting to ensure that you are getting a high-quality item. Check for reviews and testimonials from previous customers to ensure that the company delivers on its promises. Additionally, consider the size and dimensions of the piece, and make sure it fits the intended space appropriately. Lastly, inquire about any maintenance requirements or precautions needed to keep the product in its best condition.
In conclusion, purchasing beautiful decorative laser cut products can be an excellent way to enhance the aesthetic appeal of any space. These intricate designs are highly customizable and can be tailored to suit any individual's style and preferences. Furthermore, laser cut products are not just visually pleasing but also highly functional, serving a practical purpose while still looking stunning. When buying decorative laser cut products, remember to choose a reputable company and consider factors such as quality, size, and maintenance requirements. Investing in these exquisite pieces will undoubtedly elevate the overall ambiance and create a visually captivating space.